Avoiding Winter Injuries and How a Chiropractor Can Help
Avoiding Winter Injuries and How a Chiropractor Can Help
Written By De Groot Chiropractic Orthopedics on February 3, 2020
---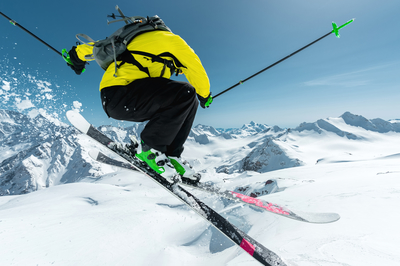 While winter comes with many fun activities such as ice skating, skiing, and sledding, the harsh weather conditions can pose serious health risks that might see you spending the rest of the season in a hospital.
From sprained ankles to twisted arms, winter injuries can cause severe pain and discomfort, especially when they're not treated properly. Fortunately, most of these injuries can be treated with chiropractic care.
What are the Most Common Winter Injuries?
Here are the most common injuries that you are at risk of getting this winter:
1. Fall Injuries
Outdoor sports activities such as ice skating, skiing, snowboarding, and ice hockey may help get you out of your hibernation state. However, these activities are risky if not done with care.
Back injuries, stiff joints, sprained wrists, and hip fractures are some of the most common fall injuries. If you have to engage in winter activities, ensure you wear the recommended protective gear.
Even if you don't engage in these sports, you still need to take extra precautions. Simple things like taking slower and shorter steps on the sidewalks and wearing the proper footwear with good traction will go a long way in ensuring you stay safe this winter.
2. Shoveling Injuries
Shoveling snow is one of the most common causes of winter-related injuries. The heavy lifting and bending can cause back pain and soft tissue injuries.
To avoid injuries while clearing your driveway and sidewalks, take the following precautions:
Get the right shovel: Plastic shovels are light and don't require a lot of energy – unlike steel shovels, which despite being durable, are heavy.
Don't pile snow too high: Consider shoveling the snow to the side of sidewalks or driveways.
Clear snow frequently in small amounts: This reduces body strain as well as your chances of back injuries.
If you're already suffering from one of these injuries, our chiropractor in Wilmington can help you find quick pain relief.
How Can a Chiropractor Help
Chiropractors use natural methods of restoration and pain relief through the manipulation of the spinal region and joints. This means that a chiropractor can treat back pain, sprained joints, and other similar winter injuries by appropriately realigning your musculoskeletal structure.
Get Relief From Winter Injuries With Chiropractic Care in Wilmington
Winter activities are fun, especially when you don't have to worry about injuries. So, ensure you take the necessary precautions. If you notice any symptoms of the winter injuries above, see a chiropractor immediately.
At De Groot Chiropractic Orthopedics, Dr. Kenneth de Groot has over 36 years' chiropractic experience treating a wide range of conditions including winter injuries.
Call us today at (302) 475-5600 to schedule an appointment at our chiropractic office in Wilmington.

Posted In: Chiropractic Winter Injuries