Carpal Tunnel Treatment With Chiropractic Care
Carpal Tunnel Treatment With Chiropractic Care
Written By De Groot Chiropractic Orthopedics on May 2, 2022
---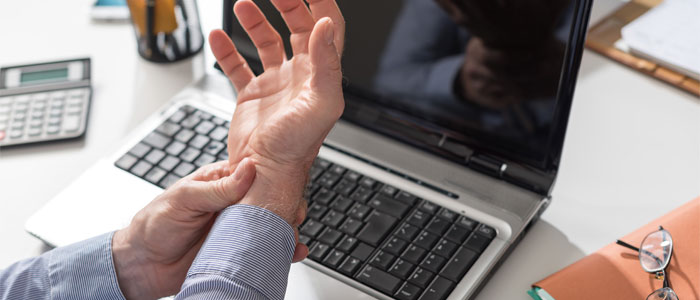 Over the course of one day, your fingers exert nearly 16 tons of force by pressing the keys on a keyboard. It's no surprise that between 4-10 million Americans suffer annually from carpal tunnel syndrome. What starts out as minor tingling or numbness can be a sign of unhealthy pressure on the median nerve in your wrist, a.k.a. carpal tunnel
DeGroot Chiropractic Orthopedics has helped thousands of patients in Wilmington, DE, improve their carpal tunnel symptoms and is ready to do the same for you.
How Chiropractors Treat Carpal Tunnel
Carpal tunnel is often caused by repetitive activities such as typing, athletic maneuvers, or other job functions. The problem can worsen when combined with poor ergonomics and posture. When left unchecked, carpal tunnel can cause severe pain and make it hard to do everyday tasks.
DeGroot Chiropractic Orthopedics treats carpal tunnel by using a series of adjustments and physical rehabilitation exercises. Our goal is to help you regain function so you can type, write, eat, and do your everyday activities without pain.
Dr. de Groot is board certified in the specialities of chiropractic orthopedics and disability analysis, and has more than 39 years of experience as a chiropractor. Serving the Wilmington area for decades, he is versed in trauma, sports injuries, as well as injuries from repetition. Whether your carpal tunnel is brought on by computer over-use or from sports, our practice has the knowledge and skill set to help you live pain free. Having worked with the Delaware/Professional tennis team and Cowtown Rodeo contestants, Dr. de Groot is familiar with how strenuous activities can cause carpal tunnel and a host of related ailments.
Carpal Tunnel Treatment in Wilmington
We understand how carpal tunnel pain can negatively impact your life. When seeking help, choose a chiropractic practice that has decades of experience helping patients fix their carpal tunnel. DeGroot Chiropractic Orthopedics in Wilmington treats the problem, not just the symptoms. We will work with you to find the cause of your carpal tunnel and get you on track to developing healthier habits. Through non-invasive treatments, our practice has an array of therapeutic options for treating your pain.
When you're ready to stop living with carpal tunnel pain, call our chiropractic office at (302) 475-5600 to schedule an appointment. We've served Wilmington for 39 years, and we're excited to see how we can serve you as well.

Posted In: Chiropractic Carpal Tunnel Treatment