Getting Back in Shape After Quarantine
Getting Back in Shape After Quarantine
Written By De Groot Chiropractic Orthopedics on October 23, 2020
---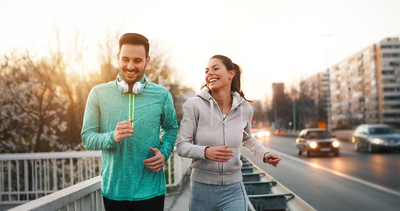 With so many people staying home during the COVID-19 quarantine, one thing being neglected has been fitness. Many people have been focusing primarily on spending time with their family and ensuring everyone is healthy, both mentally and physically.
However, now that states are starting to open back up and we hope we can get back to what we knew as "normal" , it is time to get back in shape.
Getting Started with Fitness
Whether you had a routine prior to quarantine or are totally new to fitness, now is an excellent time to work on getting in shape and improving your health and well-being. While your motivation may be high, it's important to understand that you need to start slow and gradually increase your intensity over time.
During quarantine most people stayed home, which involved lots of Netflix, Hulu, and Prime Video. Even if you were relatively active prior to quarantine, you've likely lost some of your endurance and muscle tone. Unfortunately that means starting over .
Great ways to get started include:
Have the right equipment on hand (properly sized weights for lifting, a treadmill for running at home, new shoes with correct support).
Make a plan, talk with your medical team and set realistic goals.
Slow walks for those with no fitness experience, short distance runs for those who are familiar with fitness.
Weight training with 2-5lbs and steadily increasing over time.
Start with 30 minutes a few times a week, and steadily increase it. The American College of Sports Medicine recommends building up to 150 minutes of moderate aerobic exercise per week.
How Chiropractic Care Can Help with Your Fitness and Nutrition in Wilmington, DE
For those who are just starting, you want to check with your medical team before beginning any type of fitness regime, and that includes your chiropractic team. Chiropractors provide several different services to help you with your fitness and nutritional needs. Some of these services include:
Chiropractic spinal and extremity adjustments
Exercise and stretching instruction and programs
Nutritional counseling
Massage therapy
Physician- directed Therapy (PT) and more
Need help with your fitness or nutrition? Then contact De Groot Chiropractic Orthopedics today or call our office at (302) 475-5600.

Posted In: Chiropractic Getting in Shape