7 Signs You Need Whiplash Treatment After a Car Accident
7 Signs You Need Whiplash Treatment After a Car Accident
Written By De Groot Chiropractic Orthopedics on January 25, 2021
---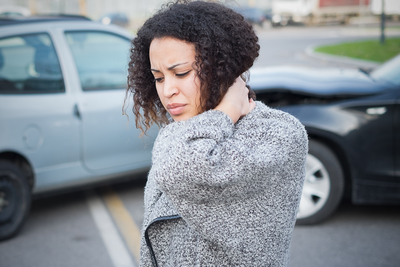 Were you recently in an auto accident? Whether you feel immediate pain, pain that worsens throughout the day, or no pain at all, it's essential to seek chiropractic whiplash treatment before anything worsens or causes long-term damage.
What is whiplash? Let's discover what whiplash is and how chiropractic care provides effective car injury treatment.
Top Signs to Visit a Chiropractor for Car Injury Treatment
Typically caused by rear-end car accidents, whiplash occurs from a rapid back-and-forth movement of the neck. The motion can injure your spine, discs, muscles, nerves, ligaments, and tissues, leading to long-lasting complications if not treated after the car accident.
How do you know if you have whiplash? Pay careful attention to the following symptoms after a car accident:
Neck stiffness and pain
Pain with neck movement
Loss of range of motion in the neck
Headaches or migraines
Shoulder, upper back, or arm tenderness
Tingling or numbness in the arms
Fatigue or dizziness
If you were recently in a car accident or sports-related injury, it's essential to receive a diagnosis before your symptoms worsen. With the right car injury treatment plan, whiplash pain often improves within a few days or weeks.
Chiropractic Whiplash Treatment
Chiropractic provides a non-invasive and natural solution for whiplash treatment. After an accident, your chiropractic will diagnose the root cause of your pain through a comprehensive medical history assessment and physical examination. Upon your diagnosis, your chiropractor may recommend the following whiplash treatment options:
Spinal manipulation
Massage therapy
Therapy Modalities (heat, ice, ultrasound, electric stim, healing "cold" laser
Ergonomic and other lifestyle changes
Stretching and Exercises
Instead of masking your whiplash symptoms, your chiropractor will develop a personalized treatment plan that targets the root cause of your pain so you can regain full functionality and range of motion.
Discover Car Injury Treatment in Wilmington
While you may feel fine after a car accident, visiting your local Wilmington chiropractor is the best way to ensure you avoid future complications. Dr. Kenneth de Groot, D.C. at De Groot Chiropractic Orthopedics, with 38 years of experience, will treat your whiplash pain and improve your overall musculoskeletal health for long-term wellness.
Get treated for your whiplash promptly by scheduling an appointment with De Groot Chiropractic Orthopedics today.

Posted In: Auto Injury Treatment Chiropractic Whiplash Treatment